Find the Vape Shop Merchant Account Solutions You Need at Premier One Payments
Are you having trouble finding the merchant account solutions you need for your vape shop? Premier One Payments has the answer. We are one of the country's leading high-risk merchant account providers. We offer credit card processing services to all types of businesses, large and small, regardless of industry. We have thousands of satisfied clients in multiple different sectors and have earned a reputation as a first-rate merchant service provider for businesses in high-risk industries.
As a full-service payment provider, Premier One offers the secure software and hardware that your business needs to accept both mobile and online payments. We can assist your company in expanding its volume and bottom line by processing payments from customers throughout the world.
Concerned about the administrative burden? We do not enforce arduous application processes or profit-eating fees just because your business is considered "high-risk." Instead, we treat our clients with respect and give them the fair rates and fast service that they deserve.
Discover high-risk merchant services through Premier One Payments
Some business owners shy away from the term "high-risk," concerned about negative connotations. In truth, "high-risk" simply means that your industry is regulated by the federal government. Larger banks typically don't want to deal with the hassle of abiding by these regulations, so they won't provide their services to vape businesses (and many other high-risk businesses).
At Premier One Payments, our services include more than just credit card processing. We offer multiple other supportive services, including check processing so that your customers can enjoy the convenience of using checks by phone, ACH e-checks, and paper checks. Our chargeback protection services ensure that you don't fall victim to fraud, returns, or customer complaints. We identify risks to your business and tackle them head-on with extra processes that include daily monitoring and reversal management.
We don't believe that it's enough to provide outstanding merchant services for clients in high-risk industries; we also make it our goal to provide top-notch customer service. Our dedication to offering the best possible payment processing solution starts with the application process. We process applications quickly–almost always within 48 hours. We understand the value of your time, and we see our quick approval process as our first opportunity to prove that we're the right fit for your business.
Why are vape and smoke shop sales considered high-risk?
Many credit card processors will not accept vape, e-cigarette, and tobacco merchants for two reasons. First, these products are age-restricted and regulated by the federal government, meaning that responsible administration in this industry requires extensive underwriting knowledge and specific processes by the credit card processor. Many processors are not prepared to fulfill these requirements. To further complicate matters, every state has different laws regarding the sale of vape products, including the minimum purchase age. Businesses selling their products online will find it even more difficult to verify whether a customer is legally allowed to purchase each item.
Second, vape and e-cigarette products now represent a part of a major political issue, and many sponsor banks and their credit card processors believe that the potential political cost to their businesses outweighs the benefits. A possible third reason is that vape shops often sell products that could be used for marijuana, making credit card processors hesitant to provide their services. Other vape-related products that fall under the high-risk category are atomizers, batteries, and accessories–even if the merchant does not sell e-liquid.
These factors push vape sales into the "high-risk" category–and as a result, many credit card processors elect not to offer their merchant services even to legitimate and well-run vape and e-cigarette merchants. Though vaping is legal in the US, many vape and e-cigarette businesses struggle to secure the eCig merchant services that they need to be successful.
Counterintuitively, tobacco shops are less likely to be classified as "high-risk." The primary factor at play appears to be whether the business accepts credit cards in or online. A brick-and-mortar tobacco shop usually won't have any trouble working with a traditional credit card processor, but an online shop that wants to accept credit cards–like a vape shop–is likely to wind up in need of a high-risk credit card processor.
Understanding FDA regulations
Just like traditional cigarette and cigars, e-cigarettes and vape devices fall under FDA regulation. According to the FDA, any device that uses vape liquids is an electronic nicotine delivery system (ENDS). FDA regulations include not only ENDS but also liquids and accessories.
Depending on the state in which you live, FDA rules include:
Selling ENDS only to customers 18 and up
Checking the ID of everyone attempting to purchase ENDS who appears to be under the age of 27
Not giving out free samples of ENDS including parts and components
Not selling ENDS in vending machines (with exceptions)
Although these regulations are tailored to e-cigarettes, they also apply to all in-person tobacco sales. There may also be additional rules for specific products—for example, vape businesses cannot sell ENDS without health warning statements on the package and may not advertise ENDS without these health warning statements.
There are even more regulations related to traditional cigarettes, including not selling cigarettes with special flavors other than menthol and not selling packages of fewer than 20 cigarettes. Businesses selling individual cigars must post signs with health warning statements within three inches of each cash register in the store.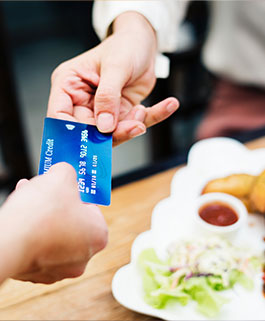 Credit Card Processing for Vape Shops & E-Cigs
If you are looking for eCig merchant services, then you'll need to find a company that can openly support your vape business. Limiting your search to high-risk processors is a good way to save yourself a significant amount of time and frustration.
Why not fudge the specifics of your business or industry to secure easy vape merchant services? While this approach may be tempting, there are good reasons to avoid it. It may seem like e-cigarettes are so similar to regular tobacco products that the difference doesn't matter much, but the fact is that they are entirely different products–and misrepresenting your business to a credit card processor is fraud.
If you sell vape products, you should never claim that you sell tobacco products, and vice-versa. This rule also applies to marijuana: some businesses in states where marijuana is legal claim that they sell tobacco products instead. Doing so is taking a huge risk. When (not if) your processor finds out, your account can be frozen or closed pending an investigation. The result can be not only steep fines but greater difficulty in securing merchant services in the future.
It's always safer to be transparent about what your business does—and you can still find a credit card processor that offers the services you need. For most vape shops, it means finding a high-risk provider.
High-Risk Merchant Accounts for Vape Shops & E-cigs
Vape and e-cigarette businesses often experience difficulties when applying for vape merchant services. There are several reasons why these roadblocks exist—but with the right partner in place, they don't have to mean that your business is locked out of accepting credit card payments. You may be limited to high-risk merchant service providers, but you still have plenty of choices, and there's no reason to settle for substandard service. If you're ready to start partnering with a company that can help, contact Premier One Payments. You can contact us by phone or email or schedule an in-person consultation.
Learn More about Premier One and Our Merchant Accounts for Vape & E-Cigs Shops
You may be limited to high-risk merchant service providers, but you still have plenty of choices, and there's no reason to settle for substandard service. If you're ready to start partnering with a company that can help, contact Premier One Payments. You can contact us by phone or email or schedule an in-person consultation.
Payment Processing
E-Check
Chargeback Protection
Credit Card Processing
Mobile Payments
Multiple Payment Solutions
Merchant Account Experts
Fast Debt Collection Account Approval
High Risk Accounts
Domestic or Offshore Merchant Account
POS/Terminals
No Set Up Fees
SEE MORE GREEN, FASTER,
WITH E-CHECK
We're not just credit cards. And neither is your business. By providing eCheck options to customers, you increase business… and the speed at which you get paid!
HIGH RISK SPECIALISTS
High-volume, high risk merchant processing solutions include load-balancing gateways and multiple MIDS. Beyond secure terminals and speedy payments, you'll have the support of a high-risk specialist on your speed-dial.
WHAT INDUSTRY ARE YOU IN?
Premier One gives every business the merchant services they need so they can grow in volume, profitability and reputation.
Collection Agencies Merchant Accounts
Multi-Level Marketing Merchant Accounts