Do You Need Merchant Account Services for Your Credit Repair Business?
Consumer debt is climbing. The Federal Reserve reports that total outstanding debt in the United States is nearing an all-time high of $4 trillion. People continue to work to put their finances in order, and yet sluggish wage growth and rising interest rates keep many treading water and seeking relief from their credit problems.
Credit repair businesses offer valuable services for those struggling to reduce debt and establish a good credit rating. Despite this, those in the credit repair industry are also struggling. According to an IBISWorld Industry report, industry revenues are declining.
Adding to the difficulties faced by merchants in the credit repair industry is the problem of finding a reputable company to process payments. Traditional financial institutions are often reluctant to establish merchant accounts with credit repair providers, which are viewed as high-risk because they experience large chargeback ratios. Banks that do approve account applications from credit repair services charge high fees and usually set volume limits that can put the brakes on a growing business.
Why credit repair services are categorized as high-risk
The credit repair industry has a reputation for being rife with bad actors, although the number of fraudulent businesses is declining as the FTC cracks down on those who take advantage of distressed consumers seeking debt relief. Unfortunately, the history of the industry continues to stigmatize honest, legitimate businesses.
Credit repair services traditionally have a high chargeback ratio because they serve clients who often make poor credit decisions and may be more inclined to back out of an agreement by disputing charges. Banks view a high chargeback ratio as an indication that the merchant has a flawed business model and will deny an application or limit volume to protect against merchants who fail to pay chargebacks in a timely fashion.
How to reduce payment disputes
Chargebacks are costly. In addition to lost revenue, merchants must pay fees and interest on the returned amount. On average, these charges are more than double the amount of the actual chargeback. Credit repair services can take steps to reduce payment disputes that trigger chargebacks, thereby saving costs and presenting their business as a better risk to payment processors.
1. Clearly state terms and conditions: Create a simple language contract so the consumer will know exactly what they are getting and what they must pay. For online credit repair service providers, require clients to indicate they have read the contract and agree to all terms by checking off a box before any payments are accepted.
2. Issue billing statements: Invoices must clearly describe services provided and agreed-upon fees. Transparency is important. Clients must have contact information — either an email address that is checked daily or a telephone number — in the event they have questions. Misunderstanding a bill may cause a client to contact the payment processor to stop charges on their credit card when a simple phone call to the merchant could clear up the problem.
3. Be honest about your services:Don't over-promise, and deliver on what you do promise. Give consumers a realistic picture of what you can do to repair their credit and how long it will take. While promising fast results may bring in business, you will lose that revenue — plus fees and interest — when unhappy clients dispute charges.
4. Use chargeback protection services:Incidents of friendly fraud — consumers disputing payments without good cause — are growing. Dishonest buyers take advantage of consumer protections that allow them to dispute charges with their credit card issuer. Merchants often do not have the necessary resources to fight this fraud. Monitoring accounts and challenging payment disputes are time-consuming tasks that require specialized knowledge of credit card company policies. A chargeback protection service can manage these tasks for a business to reduce chargeback ratios.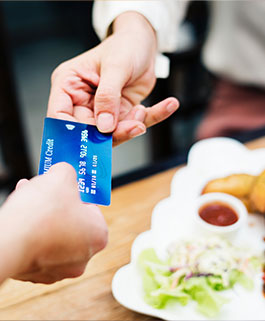 Premier One Payments offers solutions
Whether you are launching a new credit repair service, were rejected by another payment processor, have had a merchant account terminated or are currently with another processor but seeking a way to save costs on payment processing, we can help. Using a variety of programs and tools, we can customize a package to work with the unique needs of your credit repair service. Give us a call or send an email to set up an appointment with one of our representatives and learn how a Premier One merchant's account can benefit your business.
Learn More about Premier One and Our Merchant Accounts for Credit Repair Business
Premier One has been in the payment processing business for nearly 30 years. We specialize in high-risk industries and know the unique problems faced by credit repair merchants. Our fair policies and reasonable fees will give you a competitive edge in the tightening credit repair industry.
Payment Processing
E-Check
Chargeback Protection
Credit Card Processing
Mobile Payments
Multiple Payment Solutions
Merchant Account Experts
Fast Debt Collection Account Approval
High Risk Accounts
Domestic or Offshore Merchant Account
POS/Terminals
No Set Up Fees
SEE MORE GREEN, FASTER,
WITH E-CHECK
We're not just credit cards. And neither is your business. By providing eCheck options to customers, you increase business… and the speed at which you get paid!
HIGH RISK SPECIALISTS
High-volume, high risk merchant processing solutions include load-balancing gateways and multiple MIDS. Beyond secure terminals and speedy payments, you'll have the support of a high-risk specialist on your speed-dial.
WHAT INDUSTRY ARE YOU IN?
Premier One gives every business the merchant services they need so they can grow in volume, profitability and reputation.
Collection Agencies Merchant Accounts
Multi-Level Marketing Merchant Accounts