Do You Need Credit Card Processing Services for Your Business?
Although it may seem like a credit or debit card transaction only occurs between your business, a customer and their bank, there are a lot of individuals and organizations involved in credit card processing. It's important to understand their roles in the transaction.
First, the cardholder is the customer that is using a card to complete their purchase. Next is your business, or the merchant. The acquiring bank is your banking institution, while the issuing bank is the cardholder's bank. Finally, the card associations are the kind of credit card (Visa, MasterCard, American Express, etc.). Now that you know who's involved, you can see how the transaction works.
What is Credit Card Processing?

On the surface, accepting credit or debit cards seems like a seamless, simple procedure. But a lot of work goes into each transaction, and that's where a credit card processor works on your behalf. The process begins when your customer swipes their credit or debit card. Then, your terminal (a device that swipes the card) communicates with the bank for approval. The bank sends an authorization, which ends up back at your terminal. After the transaction is completed, the next phase commences to settle out the charges. These two transactions (authorization and settlement) that occur between the bank and your business each incur fees from the processor, including additional fees if there is a failure at any part of the process.
Credit Card Processing Hardware
Not too long ago, there were limited choices when it came to credit card terminals, and before that was the card imprinter. Today, however, there are many options when it comes to credit card hardware, and your decision about which to choose will depend on your business's needs. Some businesses may also decide to use several or all methods.
Stationary Credit Card Processing Machine: This is the traditional terminal that you're used to seeing at many stores and restaurants. To use these machines, customers will physically swipe their card using the magnetic stripe reader, and if they're using a debit card, they will enter their PIN. This machine uses a phone line or a direct connection to the internet to communicate with banking institutions.
Wireless Machine: Similar to the traditional terminal, the wireless machine requires a customer to swipe and enter their information. But instead of requiring a hardwire connection, it uses wireless technology for the transaction. Some wireless processing systems can be used with a smartphone, making swiping credit transactions on the go just as easy.
Virtual Terminal: The virtual terminal does not require a cardholder or their card to be present at all. These transactions — which are becoming increasingly popular — generally happen online via a computer or smartphone but can also be done in person using a third-party processor like PayPal.
Understanding the Costs

Learning the ins and outs of credit card processing fees can be an overwhelming process, but it's important to understand the basics so you can make the right choices for your business. There are several types of fees that you will incur when you accept credit or debit cards.
Transactional Fees: These fees are the largest cost of credit card processing. The transactional fees are incurred every time you make a transaction (run a card). Often, these fees are charged as a percentage of the transaction alongside a per-item dollar amount. These fees are established when you set up your merchant account but can change over time.
Incidental Fees: Incidental fees are incurred when certain situations arise. For example, most processors will apply a fee if a chargeback occurs. If you don't have any incidentals for the month, you won't pay any of these additional fees.
Scheduled Fees: Each month, you'll likely be charged a flat fee or two. These fees will occur monthly and will be laid out when you sign a contract with your credit card processor.
Beyond these fees, there are also costs for making transactions with the card associations. There are also markup fees, which go beyond the established fees outlined above. Markup fees are negotiable and can be discussed with your processor. The wholesale fees, as described above, are non-negotiable.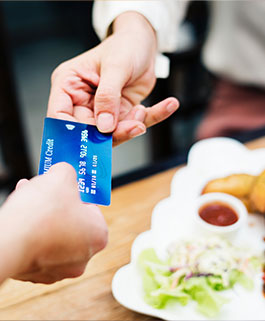 Understanding the Contract
Each credit card processor will have a different agreement, so it's important to read and understand the contract before signing. Once you have entered into a credit card contract, there are ways to negotiate and make the most of your deal. Each year, review your contract to ensure that you're getting decent rates, service and treatment. Note your expiration date, because the period before you re-negotiate your contract will be the time when you have the most wiggle room. Avoid auto-renew contracts, because those will not allow for re-negotiation. Also, keep an eye on progression to ensure that the processing company keeps up with the latest technologies and implement systems that will best protect you, the customer.
Making Sound Decisions

It may seem daunting, but in the ever-changing world of credit, there's always more to learn. For merchants, it's important to keep up to date with the market and establish a solid relationship with your credit processor.
All-In-One Solutions

Premier One Payments is a one-stop shop for our valued merchants. We will act as your consultant, guiding you to the processing solution that makes the most sense for your unique business. Our secure terminals, quick processing and support specialists are only a call away to ensure that your transactions go off without a hitch. With chargeback defense, echeck processing and, of course, no set-up fees, we'll ensure that when you take a payment, you're protected.
Learn More about Premier One and Our Credit Card Processing Solutions
Contact us now to see how Premier One Payments can take your business to the next level.
Payment Processing
E-Check
Chargeback Protection
Credit Card Processing
Mobile Payments
Multiple Payment Solutions
Merchant Account Experts
Fast Merchant Account Approval
High Risk Accounts
Domestic or Offshore Merchant Account
POS/Terminals
No Set Up Fees
SEE MORE GREEN, FASTER,
WITH E-CHECK
We're not just credit cards. And neither is your business. By providing eCheck options to customers, you increase business… and the speed at which you get paid!
HIGH RISK SPECIALISTS
High-volume, high risk merchant processing solutions include load-balancing gateways and multiple MIDS. Beyond secure terminals and speedy payments, you'll have the support of a high-risk specialist on your speed-dial.
WHAT INDUSTRY ARE YOU IN?
Premier One gives every business the merchant services they need so they can grow in volume, profitability and reputation.
Collection Agencies Merchant Accounts
Multi-Level Marketing Merchant Accounts