Do You Need Merchant Account Services for Your Student Loan Consolidation Business?
If one of your business's key services is student loan document preparation, then you may struggle to find merchant account services for your company. For multiple reasons, most merchant account service providers decline to work with businesses that operate in any document preparation industry. This inability to find a merchant services provider willing to work with your business can leave you unable to accept payments from credit cards, debit cards, contactless payments like Apple Pay, and other methods. You will be stuck in the era of cash or check, which most businesses have left behind due to convenience factors.
At Premier One Payments, we are different from the average merchant account services company. We are willing and able to offer merchant accounts for student loan document preparation businesses.
Working with us, you can establish a reliable merchant services account and start accepting payments through credit, debit, or other more tech-savvy alternatives. After all, today's customers expect to be able to pay through these methods. Many don't have checks and don't carry cash simply because they have gotten so used to paying with credit cards or debit cards. Being able to accept payments through these channels will help your business provide more intuitive, user-friendly payment options for your customers, which will help support your word-of-mouth, business growth, and revenue.
The Benefits of Working with Premier One Payments
There are many benefits you'll secure by working with our business. We are open to taking risks that other credit card processors won't, whether that means handling clients with high volumes of transactions or making sure that we've done the due diligence necessary to serve a regulated industry such as student loans.
Other perks of working with us include:
A simple online application that you can fill out and submit in minutes.
A fast approval process (less than 48 hours in most cases)
High approval rates (approximately 99 percent of all applicants approved)
Real-time chargeback monitoring and protection
Flexibility of payment options (accept credit cards, debit cards, and eCheck payments)
Free and rapid account setup
No limit on your volume of customer transactions
Businesses that have had trouble finding merchant accounts for student loan matters are refreshed to find how easy it is to work with Premier One Payments. With us, it's easy to implement an account and start accepting card or eCheck payments right away. Everything from approval to account setup to fraud protection is easy.
Why Many Merchant Service Providers Won't Work with Document Preparation Businesses
Merchant accounts for student loan document preparation companies are difficult to come by in part because chargebacks are statistically common in the document prep industry. A customer may seek a chargeback on a document preparation service to get the service free of charge. By disputing such a charge through their credit card companies, your customers can try to get refunds to which they are not entitled.
In the financial world, this act is referred to as "friendly fraud." When it works, it works because, legally, credit card companies are required to refund all disputed charges barring evidence from the merchant that the charge was legitimate. Chargebacks can also occur more honestly—such as when a customer sees a charge on his or her account, doesn't recognize it, and promptly files a dispute with the credit card company.
Both friendly fraud chargebacks and honest chargebacks are relatively common in document preparation. Merchant account service providers are hesitant to work with businesses that have high chargeback rates since they get stuck paying penalty fees every time a chargeback comes through. As a result, many merchant service providers avoid document preparation altogether.
The other big factor is that student loans and student loan document preparation exist in a regulated industry. To serve regulated industries, credit card processors need to go through extra due diligence steps that they are not required in most other industries (such as retail). Among those diligence steps is extra underwriting through a bank or insurance company, which can increase the cost of providing services for the merchant account provider.
Rather than dealing with these extra steps, many credit card processors decline service to document preparation businesses—putting these businesses in a difficult position.
Why Merchant Accounts for Student Loan Businesses Are Important
For the credit card processing industry, opting not to serve document preparation companies is not a huge sacrifice. Document preparation companies are in their own niche, and sub-industries—such as student loan document preparation—account for an even smaller piece of the puzzle. As such, it's not a significant revenue loss for most merchant account service providers to ignore this industry entirely.
While the decision not to serve the document preparation industry makes sense from the perspective of credit card processors, it's a huge problem for document preparation companies and the customers that they serve. In the case of student loan doc prep businesses, lack of access to appropriate payment processing solutions makes it more difficult for companies to offer a service that is often essential.
In the United States, nearly 45 million people have student loan debt, according to the Federal Reserve Bank of New York. By the end of 2018, the total for student loan debt in the United States was around $1.5 trillion. These statistics alone show how much of a market there is for services and support related to student loan document preparation.
People everywhere are looking for help with student loan debt. They are looking for advice about which loans to seek out or assistance with debt consolidation. Doc prep companies provide crucial services to help consumers understand and apply for the ideal loan or loan consolidation solutions—but these companies may struggle to successfully provide those avenues of support when they can't find merchant account services.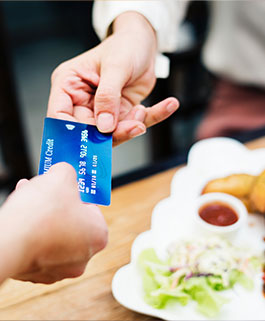 Premier One: Willing to Take a Risk to Help Your Business
At Premier One Payments, we aren't like other credit card processing companies. Unlike most merchant service providers, we provide payment solutions for businesses that are typically considered to be "high risk." If you have been struggling to find merchant accounts for your student loan document preparation business, we are ready to help.
We will take steps to protect your business from some of the risks that typically scare away credit card processors from businesses that work in the document preparation or student loan industries. Crucially, we have multiple chargeback protection programs in place to minimize the risk of fraudulent chargebacks getting through our defenses. We monitor your account for chargebacks daily and notify you about them when they come through so that you can dispute them with the credit card company. Rather than avoiding high-risk industries that see chargebacks with regularity, we decided to do our part to protect these businesses against chargebacks and other industry challenges.
Learn More about Premier One and Our Merchant Accounts for Student Loan Consolidation Business
Are you tired of getting rejected for merchant accounts for your student loan document preparation business? Are you hearing that the credit card processors you approach don't work with doc prep companies, student loan businesses, or both? In either case, apply for merchant account services with Premier One Payments instead. We'll fast-track the process and get you approved as quickly as possible. With one click, you could be charging credit or debit card payments as early as next week.
Payment Processing
E-Check
Chargeback Protection
Credit Card Processing
Mobile Payments
Multiple Payment Solutions
Merchant Account Experts
Fast Debt Collection Account Approval
High Risk Accounts
Domestic or Offshore Merchant Account
POS/Terminals
No Set Up Fees
SEE MORE GREEN, FASTER,
WITH E-CHECK
We're not just credit cards. And neither is your business. By providing eCheck options to customers, you increase business… and the speed at which you get paid!
HIGH RISK SPECIALISTS
High-volume, high risk merchant processing solutions include load-balancing gateways and multiple MIDS. Beyond secure terminals and speedy payments, you'll have the support of a high-risk specialist on your speed-dial.
WHAT INDUSTRY ARE YOU IN?
Premier One gives every business the merchant services they need so they can grow in volume, profitability and reputation.
Collection Agencies Merchant Accounts
Multi-Level Marketing Merchant Accounts