Looking for credit card processing for travel agencies?
Are you seeking a merchant account for your travel or tour agency? If so, you might think that the process is as simple as applying to your bank, waiting a few days, getting approved for a payment processing account, and then heading off to the races. Unfortunately, credit card processing for travel agencies can be somewhat challenging to come by. These businesses tend to fall under the "high-risk" category for credit card processing. As a result, many banks or payment processing firms are not willing to take a chance on travel or tour agencies—especially new entrepreneurial ventures with limited revenue or credit history to show.
At Premier One Payments, we have established a reputation within the payment processing industry for being willing to offer merchant account services to businesses and industry sectors that our competitors deem to be high-risk. If you are looking for high-risk merchant accounts for travel agencies or tour companies, we are a good bet. With a 98 percent approval rating for all applicants and an average approval turnaround of 48 hours, we can help you establish a merchant account for your business quickly and painlessly.
Why Travel Is Considered a High-Risk Industry
You may be wondering: why do payment processing firms see the travel industry as such a high-risk marketplace? After all, people travel (and need to travel) all the time. They travel for work, for leisure, for engagements such as weddings, funerals, or family reunions. They travel domestically and internationally, alone or with family.
Put simply; travel is a fact of life for most of us, which means it is also an enormous industry. Not only are there entire organizations devoted to selling the tourist draws of specific locales, but there are also many, many companies dedicated to helping individuals, families, or businesses plan and execute travel arrangements. From flight bookings to hotel reservations to trip itineraries, several factors go into planning a trip. And while DIY vacation planning is undoubtedly more common today than it was in the pre-internet days, there are still many travel agencies and tour agencies out there to help make the process a little easier.
The problem that most payment processors have with travel and tour agencies is the nature of how these companies do business with their clientele. Travel is an industry where planning is essential. While booking trips right before they happen is certainly possible, it is usually markedly more expensive than booking in advance. Also, travelers who book late don't have as many options for flights, hotels, restaurants, events, or other attractions. As a result, most customers of travel agencies are planning (and paying) in advance for a trip that might still be months away.
The risk, then, is the possibility of cancelation. Looking ahead a few weeks is difficult; looking ahead a few months is even harder. Customers can't be sure where they will be or what their circumstances will look like in six months. So, although they make plans and commit to a trip, there is always the possibility that life could get in the way. A customer might book a trip to go to a family member's wedding, only for the wedding to be canceled. A family might plan a vacation to an area that ends up being affected by hurricanes or wildfires by the time the reservation rolls around. Other factors—such as work, health, family, finances, or relationship strife—might prompt someone to cancel their entire trip. The list of possible reasons and circumstances is endless.
The problem is that canceling a trip, once planned, is not easy. Getting refunds on expenses such as airfare or event tickets may or may not be possible. Other things, including hotel reservations and car rentals, may be easier to get out of, but will still require some legwork. To protect themselves from losses in the case of a cancelation, travel agencies will usually require either a substantial upfront deposit or even a full-trip payment. No-refunds policies are not uncommon, and even agencies that do offer refunds will rarely refund the full amount. At the very least, the travel agency will still bill the customer for the work they did in putting together the trip itinerary.
Some customers understand the complications at play with planning and then canceling a trip. Others, though, feel that they shouldn't have to pay for a journey they aren't taking. Thus, if a refund through the travel agency is not possible, a disgruntled customer might try a workaround by filing a chargeback with their bank or credit card company. A chargeback is a disputed credit or debit card charge.
Travel agencies—and other businesses in industries where similarly fraudulent chargebacks are common—sometimes assume that they are protected from these types of consumer activities. After all, if the customer paid the travel agency to plan a trip, and the agency went through the process of providing that service, the customer surely has no legitimate cause to dispute the charge.
However, the truth of the matter is that the Fair Credit Billing Act gives consumers the benefit of the doubt here. The act was initially meant to provide customers immediate recourse if they fell victim to a case of fraud, a scam, or a dishonest merchant. By requiring credit card companies to reverse any disputed charges—unless the merchant in question can offer proof of the charge's legitimacy—the Fair Credit Billing Act gave some much-needed protection to consumers. The unfortunate side effect is that customers can dispute charges that they know are legitimate to get refunds they can't obtain through the merchant. This practice, known as "friendly fraud," is common in numerous industries and business sectors, including the travel and touring industry.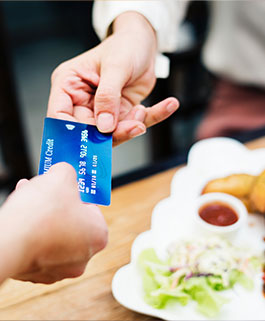 Premier One Payments: Offering Credit Card Processing for Travel Agencies
Because chargebacks are so prevalent in the travel industry, many merchant account services providers simply opt not to work with travel or touring agencies. It doesn't matter that the "high-risk" nature of these businesses is due almost entirely to customers who don't want to accept accountability for plans they had to cancel. All that matters to most payment processors is the chargeback ratio, which, if it gets too high, renders a merchant account unprofitable.
At Premier One Payments, we are different. We are sympathetic to the challenges that so-called "high-risk" businesses face in trying to find credit and debit card payment processing solutions. We know that, for a travel agency, not having the option to accept credit card payments can by itself be enough to destroy that business. By offering high-risk merchant accounts for travel agencies and tour agencies—with a high approval rating and a quick turnaround—we make a difference in this industry.
We even offer chargeback protection, to help you monitor your merchant account for chargebacks and respond to those requests with proof of charge validity. With our help, you can fight friendly fraud from disgruntled customers.
Learn More about Premier One and Our Merchant Accounts for Travel Agencies
Are you interested in learning more about our high-risk merchant accounts for tour agencies and travel agencies? Apply for your account today!
Payment Processing
E-Check
Chargeback Protection
Credit Card Processing
Mobile Payments
Multiple Payment Solutions
Merchant Account Experts
Fast Merchant Account Approval
High Risk Accounts
Domestic or Offshore Merchant Account
POS/Terminals
No Set Up Fees
SEE MORE GREEN, FASTER,
WITH E-CHECK
We're not just credit cards. And neither is your business. By providing eCheck options to customers, you increase business… and the speed at which you get paid!
HIGH RISK SPECIALISTS
High-volume, high risk merchant processing solutions include load-balancing gateways and multiple MIDS. Beyond secure terminals and speedy payments, you'll have the support of a high-risk specialist on your speed-dial.
WHAT INDUSTRY ARE YOU IN?
Premier One gives every business the merchant services they need so they can grow in volume, profitability and reputation.
Collection Agencies Merchant Accounts
Multi-Level Marketing Merchant Accounts
Experience a whole new world of business freedom.
Contact us to apply today.