Do You Need Merchant Account Services for Health and Beauty Business?
Is your business in the health and beauty sector struggling to find a merchant account that will allow you to accept and process credit card payments, especially online? Although this is an industry that, on the whole, does many billions of dollars a year in business, many of the largest acquiring banks will simply not provide services to entrepreneurs and established companies alike. This lack is particularly true for digital companies.
At Premier One Payments, however, we take a different approach, opening our doors to companies like yours and providing a wealth of services. With the ability to provide attentive service to small businesses while scaling to meet the high-level demands of larger firms, we've forged a fabulous reputation as a dependable service provider for those operating what other banks have deemed "high risk" operations.
The process of partnering with us is not overly burdensome, either. In fact, we're proud of our lightweight application process and agile response times that can enable your business to begin or resume accepting credit cards in as little as a few days. We don't put you in the "high risk" box by overcharging on fees to offset any perceived exposure, either; we've implemented fair, sensible rates that allow you to do business effectively instead of feeling hamstrung by your payment processor.
Find the Ideal Credit Card Processing Solutions with Premier One Payments
Running a "high risk" business is not an inherently bad thing – it's more like a simple fact. What it doesn't mean is that you are irresponsibly operating your company or taking actual risks that would endanger your solvency. Instead, it's more akin to a label commonly given by banks and other financial institutions to companies in industries that are more prone to potential financial pitfalls, such as chargebacks, while also potentially being subject to laws and regulations. As a result, these institutions often don't want to spend the time and energy necessary to service so-called "high risk" clients due to the perceived downsides involved in such a partnership.
We don't feel that way at Premier One Payments. By extending vital services such as credit card processing and even the ability to accept checks and ACH (or e-check) transfers from customers, we hope to enable our business partners to grow more versatile as they pursue a higher bottom line. Preventing fraud from negatively impacting your revenue is of the utmost importance to us as well. It's why we offer one of the most robust chargeback protection suites around for high-risk businesses.
Finding a human being to speak to at a significant acquiring institution can feel like looking for hen's teeth. Why should you have to chase down help when you need assistance resolving an issue, addressing downtime, or solving other problems? Premier One Payments also delivers attentive and responsive customer service from your very first point of contact with our team. Whether it's fast-tracking your application or responding quickly when you have concerns about the status of some of your services, we're always just a quick call away.
Why is the Popular Health and Beauty Sector Considered So High Risk?
The answer to this question is so simple it's only one word: chargebacks. While there are not a host of rules and regulations that constrain health and beauty merchants, it is an industry in which puffery and outsized claims of product efficacy are common. Even if you make an effort to vet the products you put up for sale thoroughly, claims made by other manufacturers can still set up unrealistic expectations in your consumers.
After they make purchases from your store and begin to try the products, they may find themselves unhappy or even disgruntled because of the results. They then decide "I want my money back" and go straight to their bank or credit card issuer to request a chargeback. The potential for many or frequent chargebacks is something which you can manage only to a limited extent on your own – hence the high-risk designation.
Have You Had Your Health and Beauty Merchant Account Closed?
Because risk management is critical for protecting the investors and other stakeholders in an acquiring bank, professionals continue to assess clients long after their initial application receives approval. Monitoring the health of the business while watching potential risk factors, such as the rate of chargebacks, is a routine task. However, this monitoring means that your merchant bank can close your account and suspend processing your payments if they identify a problem.
That problem could be something such as a sudden increase in chargebacks, such as when one customer begins systematically reversing a large number of transactions. It could also be the result of a change in your business. For example, say you run an online store that has only recently expanded into offering health and beauty products to customers. For some merchant banks, this may constitute a change in your business's risk status – consequently, your account is closed, and you find yourself stuck without a way to receive payments.
Misrepresenting your business during an initial application is not a way around these roadblocks, either; in fact, it increases the risk that you will encounter a scenario where you experience a sudden loss of service that prevents you from accepting transactions. These reasons contribute to why Premier One Payments offers a hassle-free way to obtain credit card processing solutions for those in "high risk" industries such as health and beauty, nutritional supplements, and many others – you can represent your business honestly and still obtain the services you require.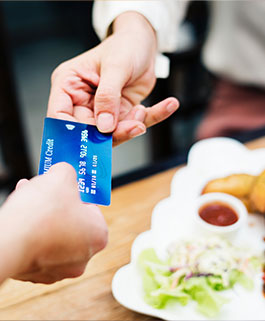 Accepting Credit Cards Safely with Premier One Payments
Alongside offering flexible and secure credit card processing services, we also aim to help our high-risk business clients put more of their time and energy back into the business. Why spend more time managing chargeback concerns than necessary? We implement rigorous daily monitoring of accounts, providing you with updates on any new chargeback requests along with news about changes to any pending disputes.
This service, combined with in-depth risk management procedures, enables you to spend much less time focused on the stressful details and more time developing the finer points of your business model. We don't severely penalize you for chargebacks, either. Our fee structure is fair and consistent, enabling our partners to make stronger financial plans with the realities of payment processing in mind. Taken in combination with the full suite of services we make available to health and beauty clients, and it's easy to see, we provide a viable alternative.
Obtain a High Risk Health and Beauty Merchant Account Today
Doing what you do best in business should come naturally and removing as many roadblocks to a company's ability to succeed is an integral part of your role in leadership. When obtaining a health and beauty merchant account has proven difficult or you've encountered consistent trouble with a prior arrangement, Premier One Payments steps up to deliver the robust service you need. We're here to stay and support your organization as it grows, too, scaling to continue meeting daily processing requirements no matter how much business you have to handle. Set up a consultation with our associates today, apply now, or send us an email to make a fresh start today.
Learn More about Premier One and Our Merchant Accounts for Health & Beauty
When obtaining a health and beauty merchant account has proven difficult or you've encountered consistent trouble with a prior arrangement, Premier One Payments steps up to deliver the robust service you need.
Payment Processing
E-Check
Chargeback Protection
Credit Card Processing
Mobile Payments
Multiple Payment Solutions
Merchant Account Experts
Fast Debt Collection Account Approval
High Risk Accounts
Domestic or Offshore Merchant Account
POS/Terminals
No Set Up Fees
SEE MORE GREEN, FASTER,
WITH E-CHECK
We're not just credit cards. And neither is your business. By providing eCheck options to customers, you increase business… and the speed at which you get paid!
HIGH RISK SPECIALISTS
High-volume, high risk merchant processing solutions include load-balancing gateways and multiple MIDS. Beyond secure terminals and speedy payments, you'll have the support of a high-risk specialist on your speed-dial.
WHAT INDUSTRY ARE YOU IN?
Premier One gives every business the merchant services they need so they can grow in volume, profitability and reputation.
Multi-Level Marketing Merchant Accounts