Premier One Offers an Elegant Solution for Your Bad Credit Merchant Account
In the modern economy, every business needs to be able to process credit cards to expand their customer base. Many businesses even require a means of accepting payment online so that they can compete with major brands in terms of convenience. Unfortunately, some of the businesses that need it have been saddled with a bad credit rating and "high-risk" designation. Below, we examine how enterprises establish and repair their credit, how it affects them when it comes to credit card processing, and what you can do if your business currently suffers from bad credit.
How Merchant Account Processors Determine Bad Credit
If you've spent much time paying attention to your personal credit, then the information here regarding how businesses develop bad credit will not surprise you. In fact, credit card processors and banks look at businesses in nearly identical ways as they do individuals when considering creditworthiness, with several differences. The main factors that these companies consider are:
Existing Credit Accounts – Does your business use a credit card for its purchases? Does the business have a mortgage or any other installment loan accounts? When these accounts are in good standing, their existence provides some assurance to potential lenders and processors that you can manage your business's income and expenditures.
Balance Ratio – How much money do you owe on credit cards or loan accounts, and how does that compare to the limits on those accounts? If you've been paying down your loan account, then that shows creditors that you do not tend to extend yourself to the limits of your credit accounts. On the other hand, pushing your accounts to their limit and seeking additional credit when your loans have just begun is a sign of risk to lenders.
Account Age – Older businesses have a significant advantage over newer businesses because they have longstanding accounts. No matter how promising a young company is, it does not possess the history to show that it can handle its revenue and expenditures in the long term. Credit accounts that have been open for 10+ years will help improve creditworthiness while lacking these is another mark against your credit rating.
Payment History – This factor is an extremely large one for your creditors. More than anything else, your payment behavior communicates the kind of borrower you are and how your business approaches its financial obligations. It takes a long time of diligent payments to accrue a positive history, but you only need a few errors in this category to haunt you for years.
Revenue – Creditors are also concerned about your revenue flow. After all, if you don't have much money coming in to cover your expenses, then you'll undoubtedly have a hard time paying debts and covering costs. If your revenue shrinks or is small compared to your expenses, then your credit suffers as a result.
Much like your reputation or integrity, credit is easy to lose but extremely difficult to build up. If your business is suffering from bad credit, you will likely have to deal with the consequences of it for years.
The Consequences of Bad Credit and a High-Risk Designation
If you've encountered credit card processors giving you a hard time, then there is a strong possibility that you're considered high risk or a bad credit merchant account. We don't want to sugarcoat things for you – these designations have real consequences for your business, and none of them are good. These effects fall into two main categories: service-related and cost-related.
The service-related consequences of bad credit start with a decreased possibility of getting a credit card processing account in the first place. Many credit card processors will reject your application out of hand. Those that accept may do so with reservations or considerations and limit the financial transactions in which you can engage. Generally, the companies that will approve your application will offer inferior customer service and take advantage of your tough conditions.
The cost-related consequences affect your bottom line more harshly. These companies will charge additional fees for what should be basic, included services such as installation and maintenance. They will also likely charge higher processing fees and make it more difficult for you to maintain your profit margins without driving away your customer base.
How to Improve Your Business's Credit Rating
Fortunately, the best ways to improve your business's credit rating and entice credit card processors are straightforward. These methods you involve the same techniques as you would use to improve your personal credit:
Consistently make payments on all your accounts to keep them current. There's a financial benefit to prepaying installment loans such as mortgages, but remember that that strategy relies on you being able to make all your regular payments. If your loan terms specify that advance payments are credited towards future periods' payments, then you can safely pay ahead when you have some additional revenue. Otherwise, you're better off holding that in reserves or making investments while continuing to pay down your business's debts.
Increase your credit limits relative to your debts. You can do this by opening new credit card accounts and keeping the balances low on them, paying them off every month. As you pay installment loans, your debts will naturally decrease over time. When coupled with timely payments, this method is the best way to improve your credit.
The ways to improve credit is all have something in common: they take time. Generally, your business doesn't have that kind of time, especially if you have clientele who desire to pay with credit cards and need a processor who can provide this service. Businesses with bad credit need another option than waiting for their credit to improve.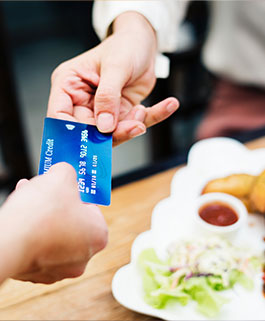 Premier One Helps You Run Your Business During and After the Repair Phase
Fortunately, there is a way to get favorable credit card processing terms despite having bad credit. Premier One understands the ebb and flow of business, so we will review all the relevant information you have regarding your finances to help justify a merchant account. When other processors approve payment processing for a bad credit merchant account, they will generally charge significantly higher fees. In some cases, those rates are exorbitant and take advantage of your difficult situation.
Premier One operates differently. Not only will we approve your account, but we'll charge you reasonable rates that ensure you can continue to pay your bills and keep your business running. We don't hide any fees, nor do we decrease our service quality by assuming you have nowhere else to go. Regardless of your credit standing, we appreciate your business and will support you as you grow your customer base and get on steady footing.
Count on Premier One to Be There for Your Business
We want you to feel comfortable that you can work with Premier One for your credit card processing needs. Our team is highly responsive and will walk you through the signup process and let you know exactly what your service covers. We treat each business as a unique entity, so the best way to learn how we can help your business is to contact us today and apply. We generally approve new accounts within 48 hours, so you'll be able to start making money from credit card payments in a matter of days.
Learn More about Premier One and Our Merchant Accounts for Bad Credit
We want you to feel comfortable that you can work with Premier One for your credit card processing needs.
Payment Processing
E-Check
Chargeback Protection
Credit Card Processing
Mobile Payments
Multiple Payment Solutions
Merchant Account Experts
Fast Debt Collection Account Approval
High Risk Accounts
Domestic or Offshore Merchant Account
POS/Terminals
No Set Up Fees
SEE MORE GREEN, FASTER,
WITH E-CHECK
We're not just credit cards. And neither is your business. By providing eCheck options to customers, you increase business… and the speed at which you get paid!
HIGH RISK SPECIALISTS
High-volume, high risk merchant processing solutions include load-balancing gateways and multiple MIDS. Beyond secure terminals and speedy payments, you'll have the support of a high-risk specialist on your speed-dial.
WHAT INDUSTRY ARE YOU IN?
Premier One gives every business the merchant services they need so they can grow in volume, profitability and reputation.
Multi-Level Marketing Merchant Accounts