Do You Need Merchant Account Services for Your Collection Agency?
At Premier One Payments, we are the rare merchant account services provider that is ready and willing to work with collection agencies. We specialize in collaborating with high-risk businesses and providing the payment processing services that they struggle to find elsewhere.
For debt collection agencies, debt buyers, corporate collection departments, and other debt collection companies and business segments, we provide the ability to accept credit and debit card payments. We do so while also offering a slew of benefits and perks that you can't find at every bank or merchant account service, including:
Fast approvals
High approval rates (up to 99 percent)
Fee-free account setup
Chargeback protection programs
No caps on transaction volumes
Rapid account implementation.
With us, you will get approved quickly, set up shop fast, and start accepting credit, debit, and eCheck payments in no time—all with the peace of mind of knowing that we are here to protect you from some of the risks of your industry.
Why Merchant Accounts for Collection Agencies Are Hard to Find
There are certain business segments in which getting approved for merchant account services is extraordinarily difficult. Typically, merchant account service providers are hesitant to provide processing services to businesses that they believe to be "high risk." Businesses that fall into this category include those that see a high volume of credit or debit card transactions or undertake inherently tricky and risky services as part of their business model—including debt collection agencies.
The Risk of Debt Collection Agencies for Merchant Service Providers
Many credit card processors will not offer merchant accounts for collection agencies and will automatically reject any applications that they receive from debt collectors. These merchant account providers have their reasons: debt collection is a specialized business with high potential for risk. Credit card processors will often choose to avoid this risk altogether.
The risk in the debt collection industry for merchant account service providers stems from the concept of "friendly fraud" chargebacks. Friendly fraud chargebacks happen when consumers make payments for products or services and then dispute the charges with their credit card company. When the chargeback gets approved, the credit card processor is on the hook for costly penalties. As a result, many processors try to avoid industries in which friendly fraud chargebacks occur with high regularity.
Why are friendly fraud chargebacks so common for debt collection companies and the merchant account providers that serve them? The nature of the debt collection businesses makes friendly fraud an inherent top-line risk for these businesses.
Individuals who are in debt may have poor credit or little cash on hand. As a result, it isn't uncommon for a debtor to make a payment to a debt collection agency and then dispute the charge with his or her credit card company. This maneuver allows these individuals to maintain their cash reserves and, potentially, get the debt collectors off their backs for the short term. Since credit card companies are required by law to reverse any disputed charges unless the merchant that billed the charges can prove their legitimacy, the dishonest debtor often comes out on top in this situation.
As chargebacks add up, any business becomes less profitable for a credit card processor to serve. In most cases, credit card processors are looking for merchant accounts that have a chargeback rate of two percent or less. Processors label accounts with higher chargeback rates "high risk" and terminate them. Industries including debt collection have so many high-risk accounts that finding merchant services in the first place is no small feat.
Premier One: Supporting the Debt Collection Industry
At Premier One, we are proud to offer merchant services for collection agencies. We understand how important the debt collection industry is in the United States and how difficult it is to avoid many of the risks of the industry. We also understand that debt collection businesses need a way to accept card payments.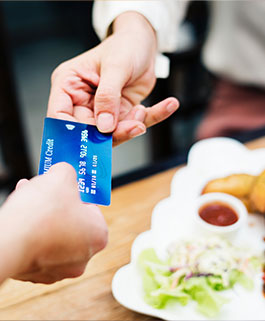 The Importance of the Debt Collection Industry
According to 2017 figures from the Federal Reserve, the average American family has over $137,000 in debt. The largest category of household debt is home loans or mortgages, which explains why so many families have debt at all, let alone such a high amount: even high-earning families may have debt in the form of a 15- or 30-year mortgage. However, debt from other sources—such as student loan debt, car loan debt, and credit card debt—is also extremely common.
Many individuals and families dutifully make payments on their loans every month, on time and even above the minimum required payment. Still, it isn't uncommon for consumers to get overwhelmed by debt and stop paying. According to CNBC, more than seven million Americans are currently 90 days behind (or more) on their car payments—a record high for car loan delinquency in the United States.
When debts go unpaid, banks, lenders, credit card companies, and other creditors aren't the ones to go after debtors. Instead, they hand the baton to collection agencies which track down debtors to get them to pay their debts. Debt collection agencies play a crucial role in handling the growing problem of debt delinquency.
Merchant Accounts for Collection Agencies
There is a very limited number of processors willing to work with debt collectors, and even the ones that do often pick and choose depending on business structure or longevity. Startup debt collection companies find it especially difficult to set up merchant accounts because credit card processors want to see payment history information from high-risk businesses such as theirs.
At Premier One Payments, our application process is simple and less restrictive, making it easier for you to get the approval that you need even if your business is new or taking on riskier debt portfolios. We are willing to take on even riskier clients, in part because of the protections that we have in place.
Chargeback Protection
Premier One's chargeback protection programs are important both to us and to the high-risk clients that we serve. Credit card companies are required to reverse disputed credit or debit charges unless the merchant behind those charges can offer proof of their legitimacy. The problem: monitoring payments and watching for chargebacks is something that most businesses have neither the resources nor the know-how to do. As a result, even if the merchant's charges are completely legitimate—and even if the merchant can prove that legitimacy, as most debt collection agencies can—the chargebacks still go through without dispute.
At Premier One, we provide daily monitoring of your accounts plus risk and reversal management programs. These services come at an extra fee, but they will allow you to spot chargebacks and dispute them, keeping your processing costs down and saving you from the high chargeback rates that typically lead credit card processors to terminate merchant accounts.
Learn More about Premier One and Our Merchant Accounts for Collection Agencies
Perhaps your collection agency was recently dropped by a credit card processor over a high chargeback rate. Maybe you are starting a new debt collection company and have been struggling to locate a merchant account service provider willing to work with you. In either case, Premier One Payments is ready to help you succeed in a risky but opportunity-filled industry.
Payment Processing
E-Check
Chargeback Protection
Credit Card Processing
Mobile Payments
Multiple Payment Solutions
Merchant Account Experts
Fast Debt Collection Account Approval
High Risk Accounts
Domestic or Offshore Merchant Account
POS/Terminals
No Set Up Fees
SEE MORE GREEN, FASTER,
WITH E-CHECK
We're not just credit cards. And neither is your business. By providing eCheck options to customers, you increase business… and the speed at which you get paid!
HIGH RISK SPECIALISTS
High-volume, high risk merchant processing solutions include load-balancing gateways and multiple MIDS. Beyond secure terminals and speedy payments, you'll have the support of a high-risk specialist on your speed-dial.
WHAT INDUSTRY ARE YOU IN?
Premier One gives every business the merchant services they need so they can grow in volume, profitability and reputation.
Collection Agencies Merchant Accounts
Multi-Level Marketing Merchant Accounts